CASE Cardiac Assessment System for Exercise Testing
CASE Exercise Testing System


A broader perspective on cardiac patient management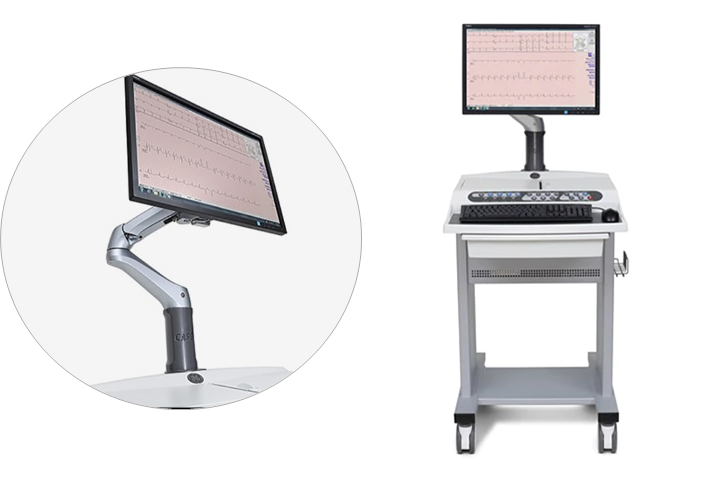 GE's CASE® Exercise Testing System helps you put data in motion, with powerful analysis and diagnostic tools that streamline the process of data acquisition and review.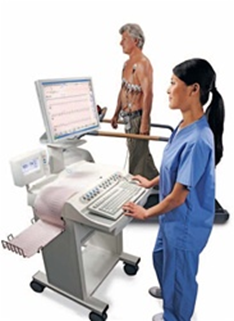 Known for robust ECG signal quality and clinical accuracy, the CASE system also provides a suite of advanced measurements to help you manage a variety of CVD patient groups.
Coronary artery disease (CAD) – CASE is the only stress solution to use ST/HR Hysteresis analysis, shown to improve the accuracy of CAD detection.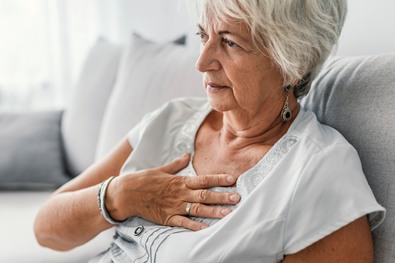 Sudden cardiac death – The CASE system provides critical algorithms – including the patented T-wave Alternans (TWA) algorithm – to assist you in predicting patients at risk of sudden cardiac death Cardiovascular disease monitoring – Metabolic equivalent (METS) level achieved during exercise testing is an important predictor of adverse cardiac events after myocardial infarction. Failure to achieve METS during treadmill exercise is associated with a worse prognosis.
The T-2100 treadmill can be purchased with this system, and can interface with the CASE® Exercise Testing System and many legacy products. The T-2100 treadmill's extra-long, 60-inch surface provides an extra margin of safety for patients. Its zero start feature slowly builds up speed for safe and smooth operation. And it can be slowed to a gradual stop, or stopped immediately with the standard emergency stop button. Full front and side handrails are also standard on the T-2100 treadmill.
CASE to MUSE workflow
Seamless stress
The design of the MUSE® cardiology information system was an exercise in workflow efficiency.
The MUSE exercise testing module has been reconfigured to synchronize with the information delivered from GE's CASE® exercise testing system for consistent data compatibility. What's more, the MUSE system's Stress Editor interface has been completely redesigned to support and display the familiar configured report formats that are generated in the CASE system.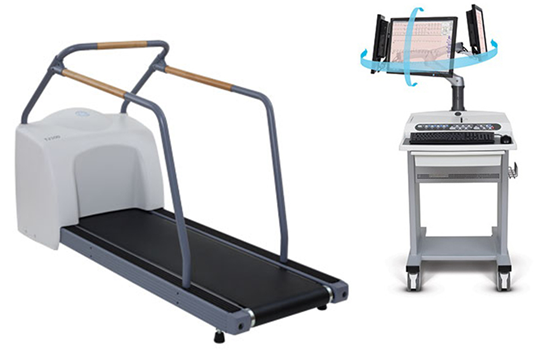 This module allows clinicians to efficiently edit their stress reports on the MUSE system, freeing up their CASE system to do what it does best – perform exercise testing.
As a result, this new workflow boosts stress lab productivity. So editing and reporting are easier. More comfortable. Faster. In effect, stress free.

Stress Editing Workflow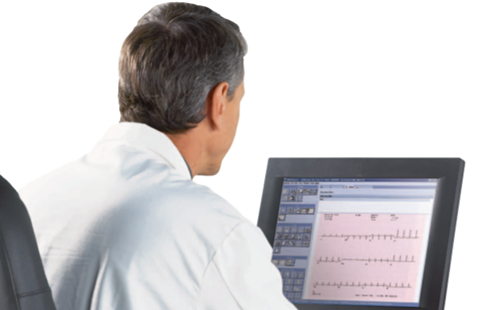 The MUSE Stress Report Editor supports exercise testing data from both GE's CASE and CardioSoft™ (CS) Diagnostic Systems. A report preview of the CASE configured report and ECG strips is displayed as part of the stress final report configuration.
CASE to MUSE communication
ADT/orders download from the MUSE system to the CASE system
Web browser access from the CASE system to studies stored in the MUSE system
Network transmission of CASE data to the MUSE system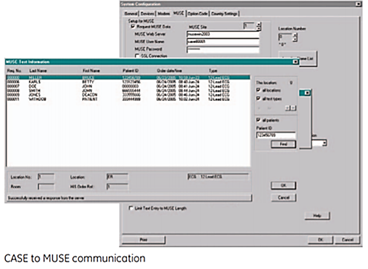 Stress Report Editor
Synchronized terminology
Dropdown boxes for editing
Large diagnosis editing area with Stress Statement Library
Clear identification of patient ID/name mismatch
Supports non-physician editing-based workflow
Synchronized with acquisition device, ADT and orders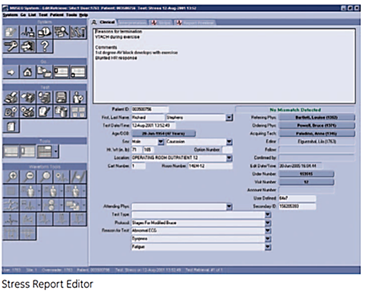 Stress Report Preview
Print preview screen
CASE final configured report functionality
Synchronized reports replicate data
Augments CASE networking

Stress strip / trend review
Graphical user interface emulates paper ECGs with red grid strip review and calipers
Trend and tabular summary review
Features and Benefits
Case System
The CASE system is the only exercise testing system that uses GE's acclaimed Marquette 12SL interpretive ECG program for accurate pre-test and recovery 12-lead analysis.
Digital signal processing at the point of acquisition and innovative noise-handling algorithms ensure clear, well-defined ECG tracings, accurate data and better patient care – even in the high-noise stress environment.
The Marquette T-Wave Alternans analysis program (TWA) provides an additional tool for predicting sudden cardiac death.
Not only does the CASE system store full disclosure data, it also allows clinicians to create 12-lead ECGs and analyze arrhythmias during post-test review.
Using GE's patented finite residual filter, customers obtain the highest quality ECG without sacrificing waveform fidelity.
Bidirectional communication with the MUSE® cardiology information system streamlines workflow in the hospital between the CASE system and the Hospital Information System (HIS).
A backlit keyboard, well-lit work surface and swiveling, full-size monitor make it easier than ever to manage patients in rooms darkened for stress echo studies.
The highly-scalable CASE system can be readily configured to the requirements of any size facility today – and lets you add more capabilities as your needs and applications evolve.
The CASE system seamlessly integrates with Centricity® Physician Office – EMR for improved workflow in the physician office.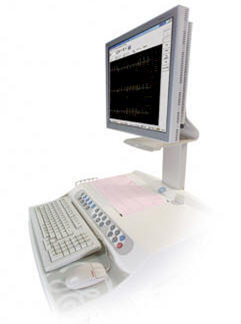 T-2100 Treadmill
60-inch walking surface
Two stopping modes
Standard full handrail set
Optional pediatric handrail set
Standard emergency stop switch
Starts from 0 mph
0 to 13.5 mph speed range
Weight capacity of 450 lbs.
0 to 25 percent grade range
Enhanced tolerance to electrical changes for greater patient safety
3.0 horsepower motor
Self-calibrating for speed and grade
Digital control insures precise speed and grade control
Technical Specifications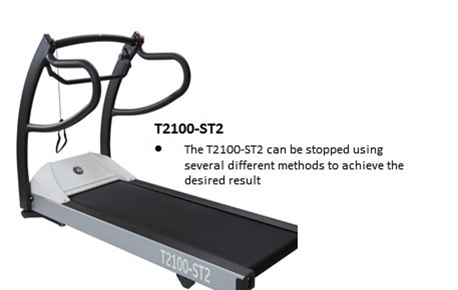 Performance
ECG analysis frequency: 500 Hz
ST measurements: ST amplitudes, slope, integral, index, ST/HR slope, ST/HR loops, ST/HR index up to 15 leads
E, J and post-J point: Manual or computer selected
Signal processing: Incremental median updating technique
Baseline correction: Finite Residual Filter (FRF) and/or Cubic Spline analysis
QRS detection and analysis: Automatic or manual lead selection
ECG output: Real-time ECG/QRS beep/TTL synchronization output
Heart rate: Automatic arrhythmia detection, documentation and annotation
Full-disclosure ECG: Beat-to-beat ECG storage & event review
Re-analysis: Post-test medians measurements from E, J and post-J point selections
ECG interpretation: (Optional) Marquette® 12SL® resting ECG analysis program for adults and pediatrics
Additional ECG function: XTI stress interpretation, vectorcardiography (15 lead)
Data Acquisition
Technology: Active, "Type BF" floating isolated powered 14-channel acquisition module with built-in lead-fail detection and lead prep impedance measurement
Sampling rate: Over-sampling @ 4000 Hz
Dynamic range: 320 mV, ± 10 mV signal superimposed on ± 150 mV DC offset
Resolution: 4.88 μV/LSB @ 500 Hz
Noise: < 15 μV peak-to-peak noise over 0.01 to 150 Hz (-3 dB) bandwidth
Frequency response: -3 dB, display and writer
High-pass filter: 0.01 (or 0.05 Hz, special use) with DC offset control
Low-pass filter: 20, 40, 100, 150 Hz (selectable)
Line filter: 50.0 or 60.0 Hz notch filter (selectable)
Baseline correction: Cubic Spline algorithm
Artifact/baseline correction: Finite Residual Filter (FRF) analysis
Common mode rejection: > 140 dB (123 dB with AC filter disabled)
Input impedance: > 10 M Ohms @ 10 Hz, defibrillator protected
Patient leakage: < 10 μA
Pace detect: Orthogonal LA, LL and V6; 750 μV @ 50 μs
Writer
Writer technology: "Instant" load, thermal dot array
Writer leads: 3, 6, 12 or 15 leads (standard, NEHB, Cabrera, configurable)
Writer speeds: 5, 12.5, 25 and 50 mm/sec (± 2%)
Writer sensitivity/gain: 2.5, 5, 10 or 20 mm/mV (± 5%)
Writer resolution: Horizontal 1000 lines/sec x 200 dpi dedicated local printing. 200 x 200 dpi generic printing
Paper type: Thermal, perforated, fan-fold, 300 sheets/pack
Paper size:
A size 214.63 x 280 mm (8.45 x 11 in)
A4 size 210 x 297.5 mm (8.27 x 11.0 in)
Physical
Height: 148 cm (58 in) with no monitor installed (LCD display rotates vertical and horizontal for optimum viewing)
Width: 62 cm (24 in) with paper tray removed
Depth: 75 cm (30 in)
Weight: 68 kg (150 lb) without monitor
Treadmill
Weight: 400 lbs. (181.4 kg)
Walking area: 18 x 60 in. (45.7 x 152.4 cm)
Floor space required: 29 x 77 in. (73.7 x 195.6 cm)
Walking surface height: 5.5 in. (14.0 cm)
Handrail height above walking surface:
Front – 40 in. (101.6 cm)
Side – Maximum 35 in. (88.9 cm) descending at a 5° angle to 32 in. (81.3 cm)
Maximum rated load: 450 lbs. (204 kg)
Belt speed range: 0 to 13.5 mph at 220 VAC/60 Hz continuously variable; 0 mph start-up
Driver motor: 3.0 hp
Elevation motor: 1/10th hp
Elevation range: 0 to 25% grade, continuously variable
Maximum leakage current: 100μA, chassis to ground
MORE INFORMATION
For a free consultation or other information please contact ASG Wellness sales team:
Email: [email protected]
Hot-line: 092-819-1618
Phone: 02-416-1666, 02-416-1464
[email protected]: @asgwellness